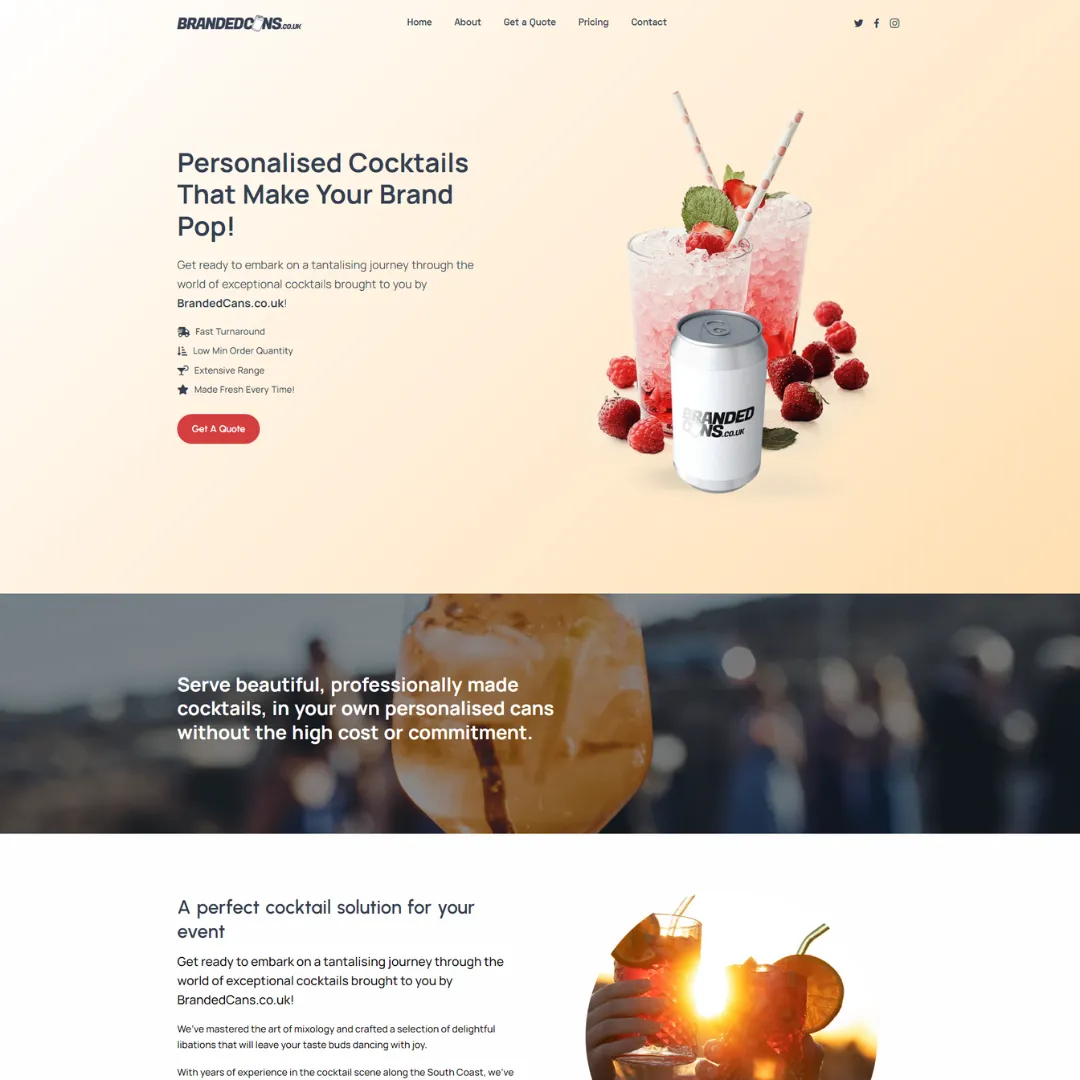 At Designstack, our dedication lies in crafting exceptional websites for our clients. We're thrilled to present one of our latest accomplishments in our portfolio – the website design for "Branded Cans," a company specializing in preparing cocktails and delivering them in personalized, branded cans for various events.
"Branded Cans" has revolutionized the way cocktails are presented and enjoyed at events. Their unique service allows users to customize and brand their own cans, providing a distinctive touch to their beverage experience.
To create an engaging and functional website for "Branded Cans," we employed WordPress as the platform and leveraged the versatility of Elementor as the website builder. This strategic choice empowered us to merge the flexibility of WordPress with the user-friendly design capabilities of Elementor, resulting in a website that is not only visually appealing but also easy to navigate.
1. Product Focus and Renders Showcase
Our primary emphasis was on showcasing the product offerings and highlighting the essence of the personalized cans. We created high-quality renders of their products, ensuring that the uniqueness and customization options available to the users were visually portrayed. By prominently featuring the previously customized cans, we aimed to convey the diversity and potential for personalization, which sets "Branded Cans" apart in the market.
2. Streamlined Order Collection
Simplifying the order process was a key objective. We designed and integrated a user-friendly form, making it effortless for customers to place their orders. The challenge was to create a straightforward and intuitive system that allowed users to customize their cans and place orders seamlessly. The form was optimized to gather essential details without overwhelming the user, streamlining the entire ordering process.
Your turn to transform your digital presence
We take pride in our contribution to Branded Cans' journey by providing an engaging and functional website that aligns with their brand identity and meets their business objectives.

For more insights into our projects or to explore how Designstack can transform your online presence, feel free to reach out. We look forward to helping you bring your vision to life on the web.
No obligation. We will call you straight back to discuss your project.